How I Relieved My Arthritis Pain Without Medication

If you suffer from any discomfort in your body and are looking for a natural solution to help ease pain this might be the most important article you read today.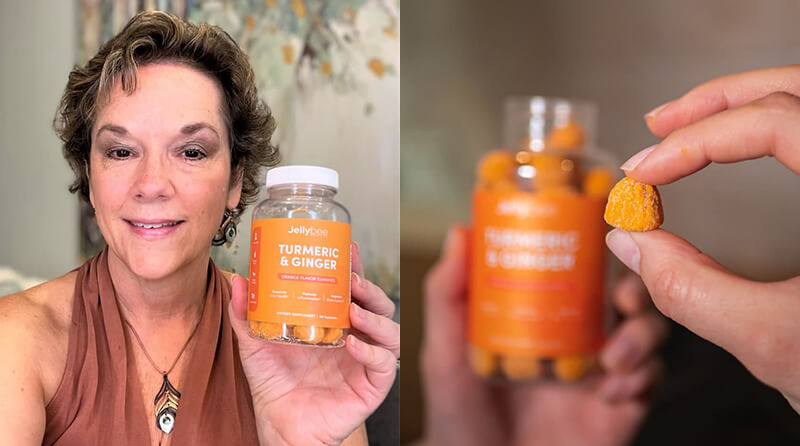 I stopped taking prescription drugs and replaced them with natural solutions that people have been using for thousands of years.

How 4000-Year-Old Spice Replaced The Steroid Injections

After five years of dealing with worsening leg pain from my arthritis, I began to look into alternatives. I'd already tried painkillers, physical therapy, and steroid injections in the past.. sadly, nothing had worked for me.

One of my ex-colleagues recommended I take a look at a premium-blended turmeric and ginger gummy supplement. In fact, she'd also used it herself for inflammation and joint pains and had great success with it.

The main compounds in it – turmeric and ginger extracts – had been used as natural remedies for inflammation for over 4,000 years.

I remained skeptical but decided to give it a try for the heck of it. What could I lose?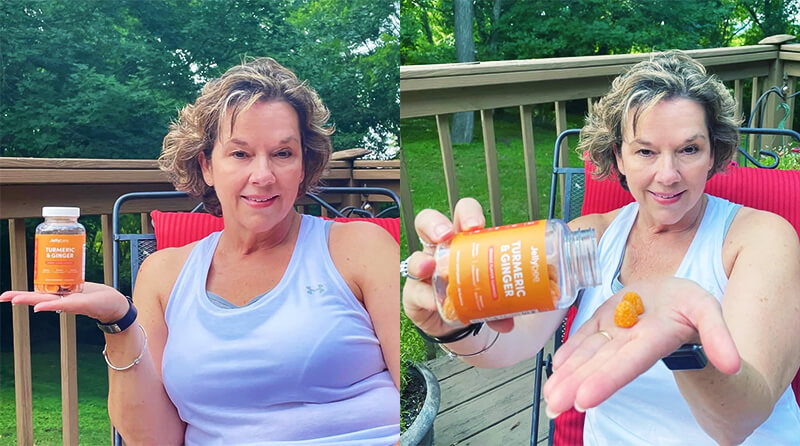 After taking the gummies for a couple of days the first thing I noticed is - less stiffness in the morning and it is easier to move throughout the day.
Pain in my knee has significantly lessened and I am finally able to do all the things that I love! PLUS I don't have to take any prescription pills anymore because I am not in pain!
What a change taking the JellyBee gummies! They made my joints stronger!
How can turmeric gummies help you ease pain

It's no secret that arthritis and other conditions can lead to chronic, debilitating joint pain. But what's not so well known is that turmeric is successful in helping this condition because it attacks the source of the issue: inflammation.

It's no wonder at all, then, why JellyBee has become a household name in health support. People started taking turmeric and ginger on a daily basis because they not only help to relieve arthritis and joint pain by reducing inflammation – they also have many other amazing benefits.

JellyBee's ingredients have been shown a positive impact on:

✓ Helping to ease pain associated with arthritis
✓ Promoting mobility and flexibility
✓ Receiving healthy anti - inflammatory effects
✓ Boosting body's immune system defenses

But why gummies and not pills, powders or raw turmeric?

Turmeric is notorious for its poor absorption rate. Ingesting turmeric on its own does not guarantee you will see health benefits!
Bulky tablets that are hard to swallow, powders that don't mix, tonics that don't taste good…
They just aren't effective. JellyBee has solved this problem with delicious, easy-to-chew gummy vitamins that are gentle on digestion.
And they promise a ±90% absorption efficiency compared to standard turmeric capsules.
Why did JellyBee add ginger? This incredible spice contains powerful phytochemicals that boost the anti-inflammatory and antioxidant properties of turmeric.
JellyBee Turmeric and Ginger gummies aren't your typical gummy vitamin. They're vegan, gluten-free, and non-GMO so you're only getting the good stuff.
Here's what people saying about turmeric & ginger gummies


Restored My Knees!
"These gummies have helped with the pain in my knees. Sorry I didn't order sooner. I tell everyone about how these gummies helped with the pain in my knees."
- Patricia M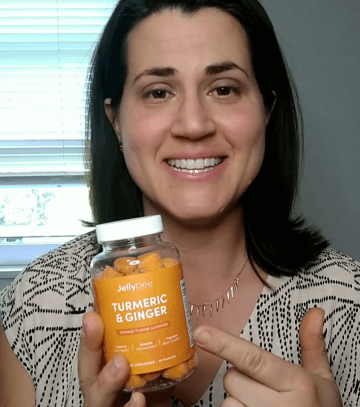 Great Help!
"I love the turmeric & ginger gummies !! Have been taking these for 3+ weeks and they seem to be helping my knee which has arthritis !! Thank you for a great product !!"
- Faye D

Move Pain - Free
"I cannot believe the relief I have gotten since about 2 weeks after I started using these. I am 64 years old and after not getting much exercise in the past 6 months I am amazed at how easily I move around without pain."
- Meghan R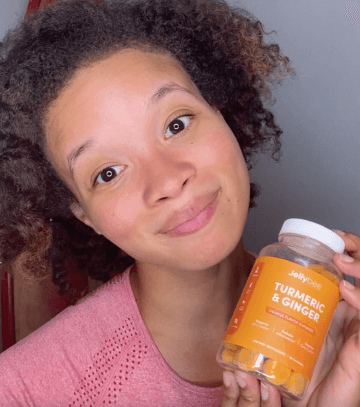 Easy To Take
"I love my Jellybee Tumeric & Ginger, they are great for my self-care that I am focusing on. They are easy to take unlike my horse-size vitamin pill, lol, and have a nice taste to them. Well done!!!!"

- Sharon R
CAUTION:

Not all turmeric supplements are created equal!


If you've strolled through your local grocery store's supplement aisle recently, you probably noticed an endless row of turmeric supplements and each one promising life-changing benefits.

The key anti-inflammatory ingredient you need to look for is curcumin or curcuminoids. Most supplements claim to contain organic turmeric root powder, which contains about 1%-2% curcuminoids. And while that's not bad, it's not great either.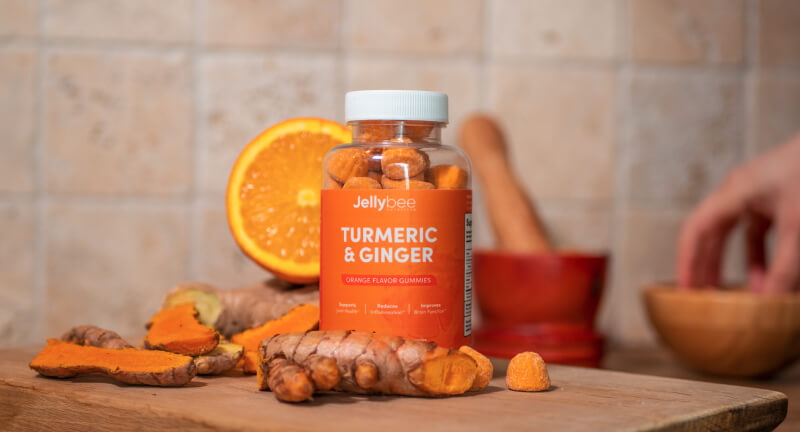 That's why JellyBee gummies are made with "standardized turmeric extract," which comes with 270 mg of curcumin.
That's five times the amount of pain-relieving, anti-inflammatory compounds! Combine that with ginger for added inflammation-fighting benefits, and you have a MUCH more powerful turmeric supplement than ANYTHING else on the market!
So if you're looking for RESULTS, you want the JellyBee gummies with 270mg of Standardized Turmeric Extract (5% Curcuminoids) per serving.
Where to get it?

If you finally want to do all the things that you love without feeling restricted in your own body - do it with JellyBee Turmeric & Ginger gummies.
Made from powerful ingredients these gummies will help to relieve your joint pain, reduce inflammation, and much more!
They almost never run specials. But right now, you can take advantage of this amazing deal that you will not find anywhere else - 24 % OFF!
And if you don't like it? They offer a 30-day money-back guarantee.
Comments and reviews