The Secret Behind Strong Joints & Relieved Inflammation
Take two gummies daily to:
Reduce joint aches and stiffness
Increase joint flexibility
Receive healthy anti-inflammatory effects
Try Risk-Free
LIMITED TIME OFFER - Get 24% Off Today
30-Day 100% Satisfaction Guarantee
Free Shipping On Order $50+
Exceptional Customer Support
Just 2 gummies a day provide benefits for your body, brain, and natural aging processes
Reduce aches and pains
Various studies confirmed that turmeric is powerful in relieving pain because it fights inflammation sources and provides long-lasting relief.
Improve joint flexibility
Curcumin performs well in promoting comfort and flexibility without the side-effects providing a natural supplement alernative.
Improve brain function & memory
Curcumin is capable of improving cognitive function - it protects brain cells. People who take turmeric reported improvement on overall brain health.
Receive anti-inflammatory effects
Chronic inflammation can lead to many diseases. Thanks to its curcumin compounds, turmeric is anti-inflammatory fighter.
Support the immune system
Curcumin has been shown not only as a helpful support for your immune system but can also boost your body's ability to fight off immune system challenges.
Delicious & easy on the stomach
Unlike horse-size pills turmeric gummies are easy to take, PLUS they don't cause side effects as nausea or drowsiness.
Get Your Bottle
As Featured In:
Essential health ingredients combined in one gummy - finally affordable for everyone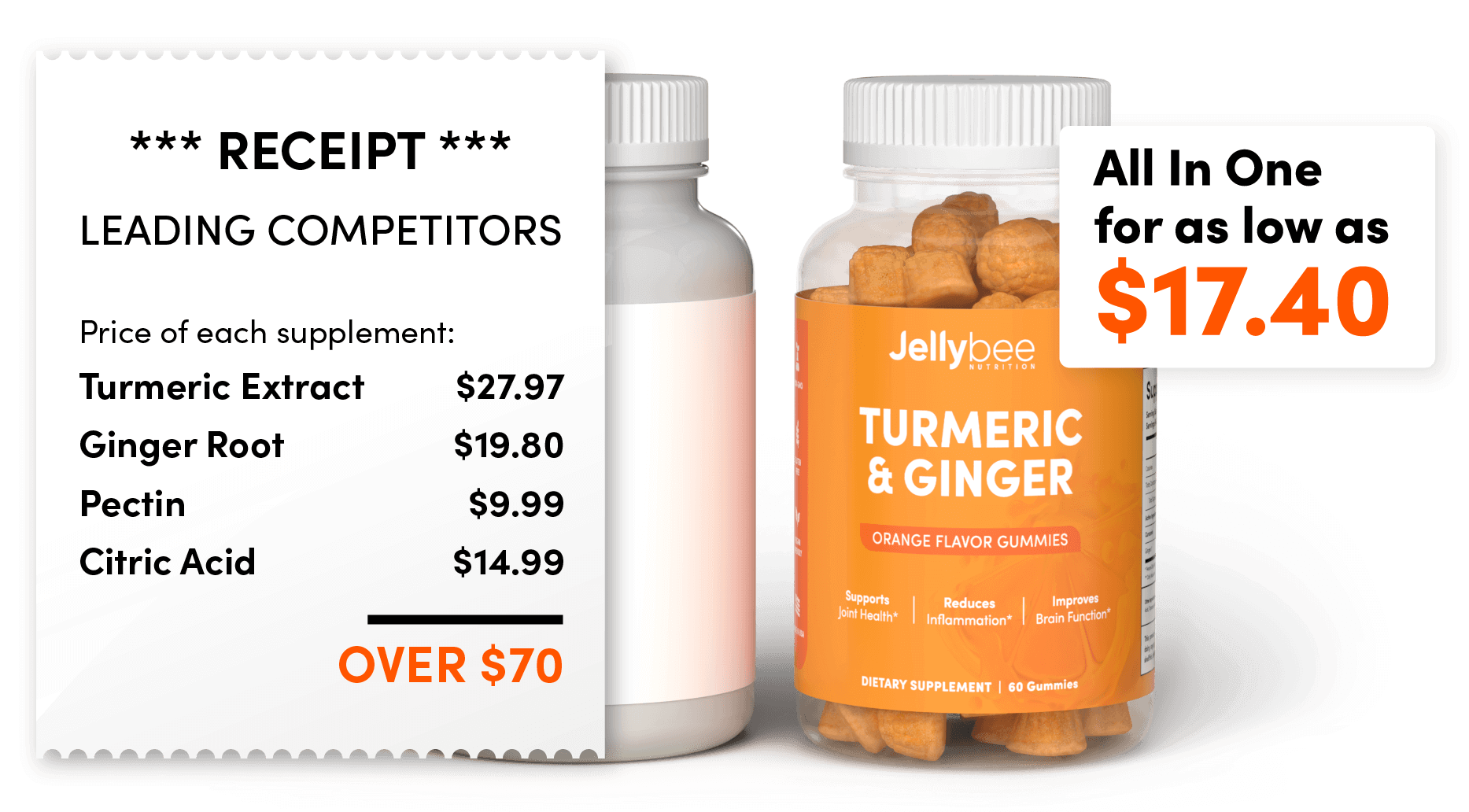 Order Now
Try JellyBee Gummies Risk-Free
Jellybee is so confident that it's formula helps to relieve pain and inflammation effectively that every bottle comes with a 30-day 100% risk-free guarantee. 
‍
That means if their product doesn't work for you, you can send it back and get a full refund. No questions asked. You have absolutely nothing to lose!

SPECIAL OFFER:


Save up to 24% OFF when purchasing today!
Limited Time Offer
You Save: $9.00
+ FREE SHIPPING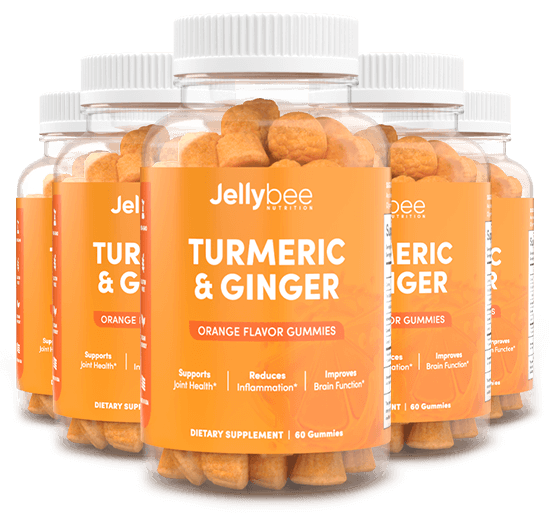 You Save: $27.96
+ FREE SHIPPING
You Save: $0.00
+ FREE SHIPPING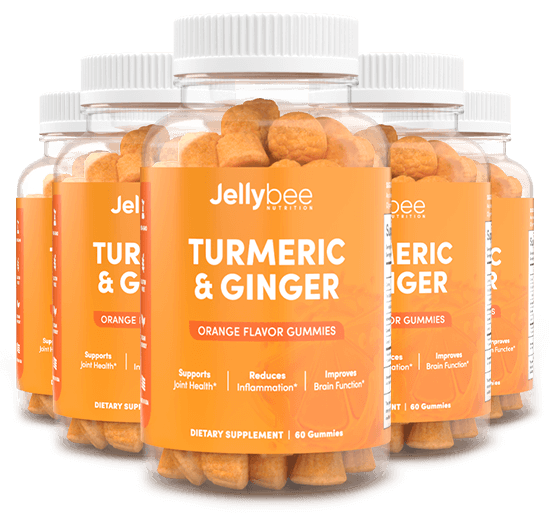 24%
OFF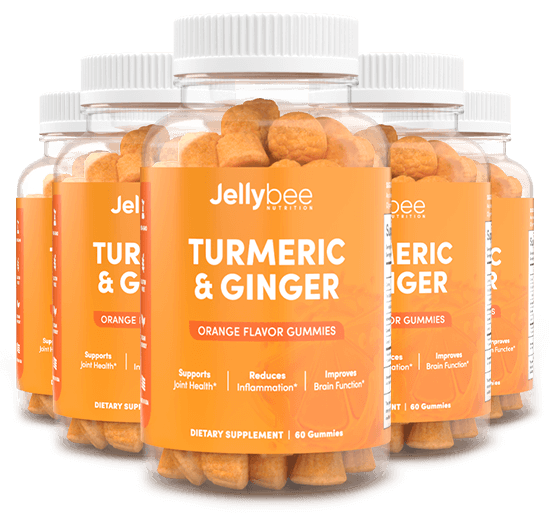 You Save: $27.96
+ FREE SHIPPING
BUY NOW
13% OFF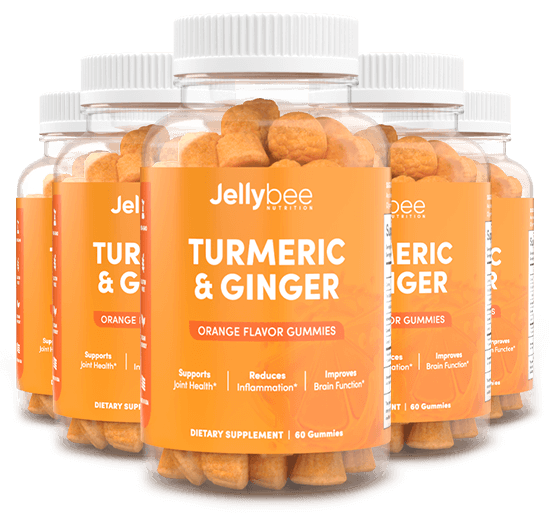 You Save: $9.00
+ FREE SHIPPING
BUY NOW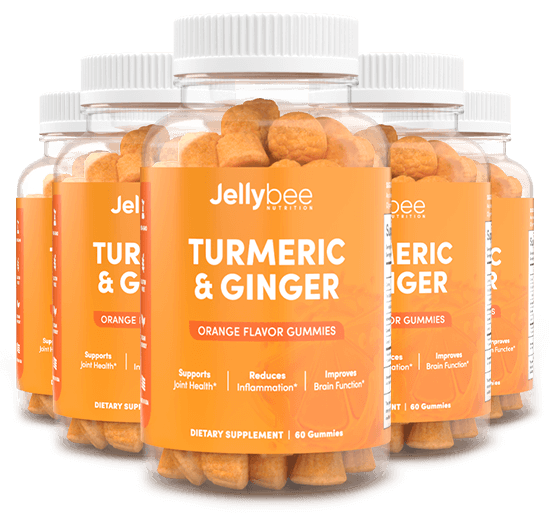 BUY NOW

Frequently Asked Questions
1. How are turmeric & ginger gummies better than capsules?
Normally, turmeric extract has one weakness: it is difficult to assimilate in the digestive tract. However, gummies dissolve in the mouth, where turmeric extract is absorbed more easily — this dramatically enhances turmeric's bioavailability.
2. Do you use turmeric powder or pure curcumin?
Pure curcumin (turmeric extract). The concentration of pure curcumin within raw turmeric is only about 3%-4%, so this is the only way you can get the adequate serving per day.
3. How do I take these?
A serving is two gummies. Take one serving (two gummies) per day and chew it — it's that easy. Do not exceed the recommended amount. Use consistently for sustained effect.
4. What is your return policy?

Buy with confidence - if you feel there's something wrong, return within 30 days, no questions asked, just email us at support@thejellybee.com

We offer 100% hassle-free refund guarantee.
5. Are there any side effects?

No. We use natural, science-backed ingredients that have been used in Ayurvedic practices for centuries.
Order Yours Now - Limited Stock
Order Now